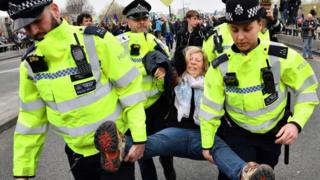 More than 120 climate change activists have been arrested for blocking roads in central London, amid protests aimed at shutting down the capital.
A second day of disruption is under way after Extinction Rebellion campaigners camped overnight at Waterloo Bridge, Parliament Square and Oxford Circus.
Police said 500,000 people had been affected by the diversion of 55 bus routes in London.
The Met said 122 people had been arrested by 12:30 BST on Tuesday.
Most were detained on suspicion of public order offences, while five people were held on suspicion of criminal damage at Shell's HQ.
Campaigners have been ordered to restrict their protests to Marble Arch after they caused widespread disruption on Monday.
Ch Supt Colin Wingrove said: "Ongoing demonstrations are causing serious disruption to public transport, local businesses and Londoners who wish to go about their daily business.
"At this time we have made a total of 122 arrests… 117 were on Waterloo Bridge last night and in the early hours of this morning," he said.
Transport for London warned bus users that routes would remain on diversion or terminate early.
Extinction Rebellion, which is calling on the government to reduce carbon emissions to zero by 2025, wants to "shut down London" until 29 April in a series of protests.
It called for "reinforcements" to help maintain the roadblock at Waterloo Bridge on Tuesday.
Hundreds of protesters tried to hinder the police effort to move them on, including some who glued themselves to a lorry parked on the bridge.
On Monday, a pink boat was parked in the centre of Oxford Circus where some activists locked their arms together with makeshift devices, while oil company Shell's headquarters on Belvedere Road were vandalised.
Organisers said protests had been held in more than 80 cities across 33 countries.
The second day of action included speeches at Parliament Square about how to tackle climate change.
Many people trying to travel across London criticised the disruption, while others said the vandalism was "disgusting".
Peter Newport said on Twitter: "I agree with freedom of speech but if I can't get to work it's costing me money."
At the scene: Shamaan Freeman-Powell, BBC News
Oxford Circus is usually one of the busiest crossroads in London, but only scores of protesters and bemused onlookers can be found in the middle of the road today.
Food stalls offering free porridge, and clothing lines for dirty laundry have been erected.
Children as young as six are making use of the freshly-drawn hopscotch, running around the tents and flying colourful banners.
One campaigner, who attended the protest with her two children, says she was protesting for the people who are "the most vulnerable, and least responsible for climate change".
Her nine-year-old daughter says she wishes her school taught her more on the issue.
Most protesters say the police have been encouraging – despite the number of arrests – although taxi drivers and shoppers complained of the disruption.
The government said it shared "people's passion" to combat climate change and "protect our planet for future generations".
The Department for Business, Energy & Industrial Strategy said the UK had cut its emissions by 44% since 1990.
A spokesperson said: "We've asked our independent climate experts for advice on a net zero emissions target and set out plans to transition to low emission vehicles and significantly reduce pollution through our Clean Air Strategy."


blocked drains sutton

Source link